STEVE SIMONS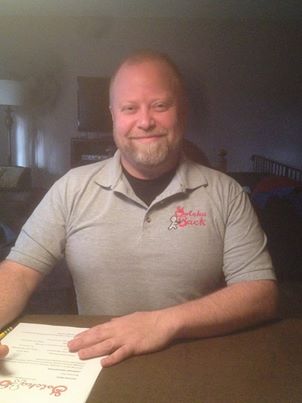 I'm from Northern New Jersey originally, and moved to Northvale with my family in 1977. I graduated from Northern Valley Regional High School in Old Tappan in 1984, and ventured to college before deciding to become a Restaurant Manager. Having successfully run many successful operations in New Jersey, Las Vegas and the San Francisco Bay Area, I decided to return to Northvale to be closer to my family and find my own niche in which to run my own business. Originally I wanted to open my own restaurant. What I found was that I had a talent for helping people feel better.
So, after over 30 years in the restaurant and hospitality field, I decided that I wanted to help people in a different way; to heal. With that in mind, I enrolled in the Academy of Massage Therapy, an extremely reputable school in Hackensack, NJ offering certification and licensing in varied massage modalities including Swedish, Thai, Deep Tissue, Sports massage, Shiatsu and Anma, as well as many popular Spa services such as Reflexology and Aromatherapy.
The State of New Jersey requires 500 hours of training to become licensed as a Massage Therapist, and at the end of my program I had completed 1218 hours, including over 200 hours of actual "hands on" massage. For over 7 years now, I have developed skills that are useful in helping clients manage pain, stress, injuries and duress in their lives and their lifestyles. I have worked with prestigious spas such as Christine Valmy and Red Door Spa and bring my skills to my own office. I continue to learn new skills with continuing education including Medical Massage and Myofascial release.
As a New Jersey and New York state licensed Massage Therapist, I hope to make a difference in the lives of my clients on a daily basis, enriching my community and myself. That is the mission statement of GOTCHA BACK – make a difference and enrich the lives of others through healing.